This is normally the bit where you read about proudly serving the community, happily married family man and all that stuff.
This page is going to be a bit different. I'ma friend of Mohammad, first meeting him just over two years ago in a hotel near the airport after he and his wife and two children arrived from Turkey as one of the first waves of Syrian refugees who were existing in Turkey. My family had committed to sponsoring some Syrian refugees on arriving in Canada.
And yes, he's from Aleppo in north west Syria, his family home and the home of the Battle of Aleppo since 2010.
A little about Mohammad, married father of two young children, he left Aleppo in 2013 ahead of his wife and children. He, like pretty much every refugee from Syria had to pay people smugglers to get across the border in to Turkey. His method of crossing was a great big cooking pot. In the absence of boats, the smugglers used a big cauldron that they drew across the river on a rope.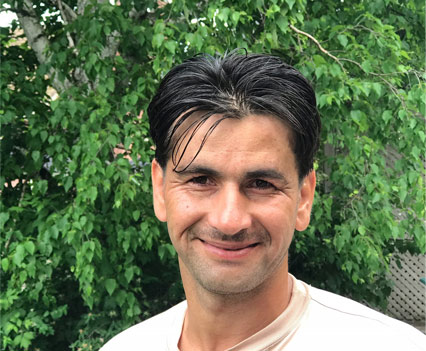 In Aleppo, Mohammad had been a driver for a grocery supply company and on coming to Canada he wanted to be a driver again initially but things changed!
He passed his driving test in September of 2016 but the opportunities never arose.
He opened Aleppo Landscaping and Snow Removal in the winter of 2017-18 and has a work ethic that is incredible.
Just after he arrived he got a job at a Popeye's Restaurant in Richmond Hill and still works there despite the landscaping business booming. I asked him why "they're my friends". That speaks to his loyalty too.
I'm also one of his customers (I don't even own a lawnmower!) and he said that he couldn't charge me, I told him that if he didn't, then I'd have to find somebody else to do it.
As far as English goes, spoken is great obviously as he deals with customers all day and every day but written English not so much. That's why I'm writing this.